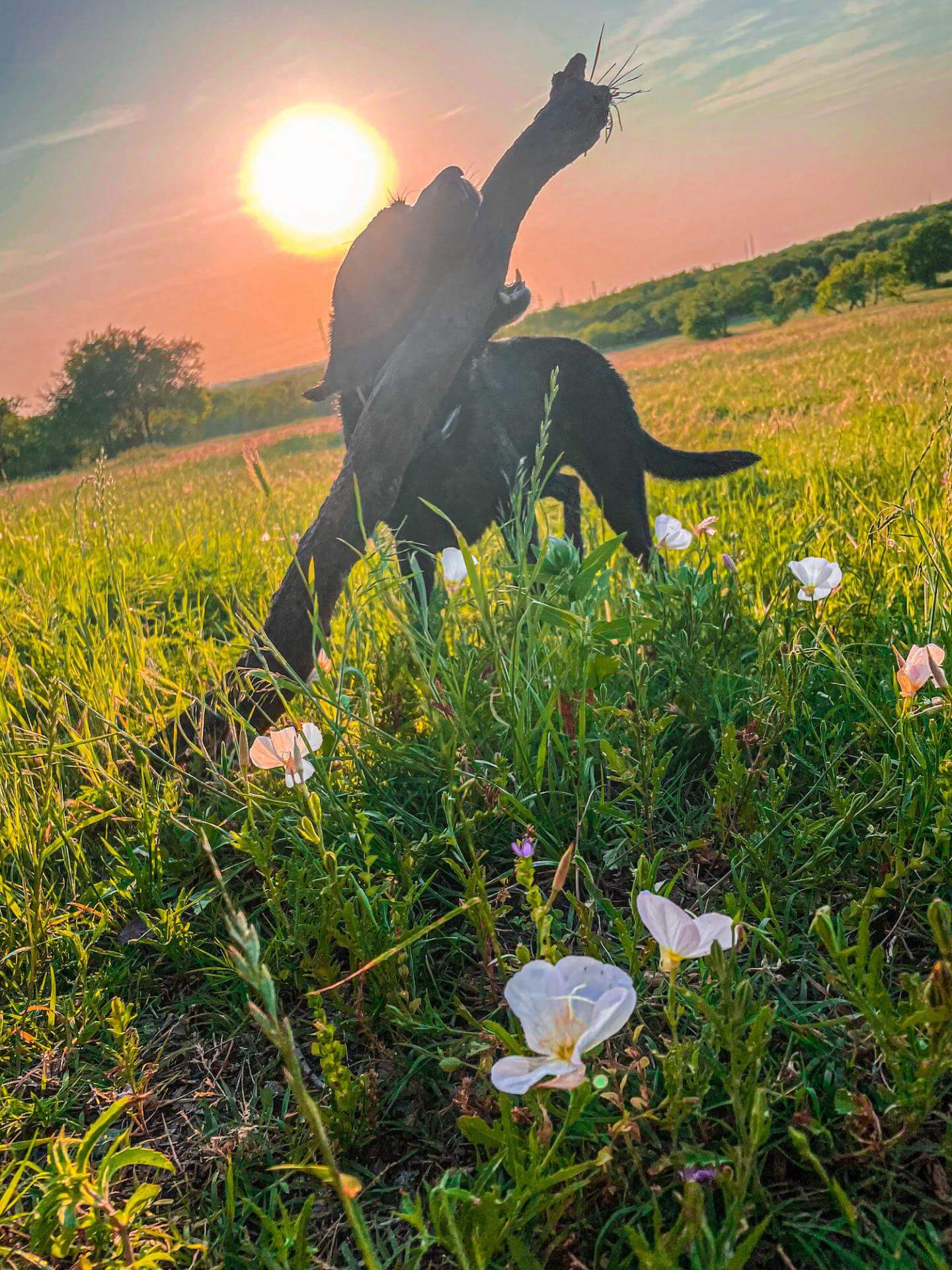 Staying at the Ranch is a unique experience. Located in the countryside near Ennis, Texas (approximately 40 miles south of Dallas). The Ranch is for campers who enjoy a rustic lifestyle and interactive outdoor activities.
Amenities include a shuttle ride to our climate controlled retreat, premium wellness diet, collars, treats, six play yards with an overview of 300 wildlife protected acres, wooden obstacle courses, pup friendly playground equipment, walk-in swimming pond, launching dock, and overnight accommodations available for all campers.
Daily Schedule
| | |
| --- | --- |
| 7:30 AM | Breakfast and Morning activities |
| 11:30 AM | Nap Time |
| 1:00 PM | Afternoon activities |
| 4:30 PM | Dinner |
| 6:00 PM | Bedtime Tuck-In |
Activities
Group Play
Individualized Play Time
Obstacle course
Swimming
Frisbee
Fetch
Pond diving contest
Bird watching
Playing in the sun
Relaxing in the shade of oak trees
Check our availability and reserve a Suite with our reception team at (214) 526-2033
The Ranch Retreat reservations require a 2-night minimum.
Reservation Information
No personal belongings or food is authorized as our guests are provided collars, name tags, Purina EN gastroenteric veterinary diet, and other comforts. (Prescription diets can be brought if the appropriate medical records are provided by your Veterinarian). Guests under 10lbs are required to stay at the Dallas (Urban Oasis) location. Guests with airway restrictions are only vacationing at the ranch during the months of October - May. Guests medication can be administered for a fee, this will be included on your final boarding invoice.
If your pet's medical history is not up to date, or medical records have not been provided on immunizations* and/or intestinal parasite screening, it is required that our medical staff perform those services during their stay and conveniently include this on your final boarding invoice.
First time guests must have a registration exam performed which includes a temperament and wellness assessment with our veterinarian. The fee for this will be included on your final boarding invoice but is waived if you are a current client of Highland Park Animal Hospital or Vickery Place Animal Hospital.
Each guest receives Capstar at the beginning of their stay to maintain our flea-free facility. This preventative measure will not affect any other flea treatments that you routinely use at home. A nominal fee will appear on your final boarding invoice for this service.
*Immunizations Required for Canine Guests:
Rabies
DPP (Distemper, Parvovirus & Parainfluenza)
Bordetella
Canine Influenza
Leptospirosis